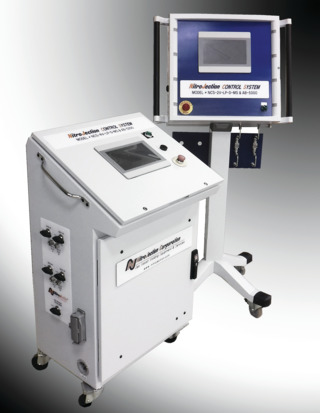 Download our Equipment Pricing List ===>
After more than 20 years of manufacturing nitrogen gas-assist controllers capable of maximum pressures as high as 10,000 pounds per square inch (psi), NitroJection Corporation is proud to announce our newest product; a controller for low-pressure nitrogen gas-assist processes.
Introducing the NitroJection Control System (NCS), our newest controller that operates at a maximum pressure of 5,000 psi.  Why lower pressure?
Our current gas-assist controllers offer great flexibility in the types of parts that can be made. Possible parts include everything from thicker-walled objects that only require pressures in the 500 psi to 2,500 psi range — such as car door handles — all the way to thin-walled objects, like TV cabinets, that require a fast, high-pressure shot.
The cost of the components capable of handling this wide range of pressures adds to each unit's cost.  But because an estimated half of all gas-assisted molded parts being produced are thicker-walled products, they can be made with lower pressure, less components and less money.
The NCS comes in two body types — a console cabinet style, which looks almost identical to the high-pressure NitroJection Satellite Unit — and a five-footed pedestal-base style. Either body type can be ordered with one, two or four valves for supplying gas to a multicavity mold.
Similar to NitroJection's well-established controllers, the NCS can be fed with nitrogen from either bottles or from a plantwide nitrogen gas supply line. But the controller's screen size has increased from 8 inches to 10 inches, using an HMI from Maple Systems. The screen is also brighter making it easier on the operator's eyes.
The new HMI also offers improved recipe management.   It allows the recipe to be saved under both alpha and numeric characters. If you use somebody else's operator interface, you can only put in numeric characters.  The NCS also uses an Allen-Bradley Micrologix PLC.
We also offer Gas Assist Rentals which are good for a molder that might just have one or two months' spike in production, but not enough production to warrant purchasing a new machine
You can read more about our new Gas Assist NCS Series Controller as it was featured in Plastics Machinery